L'Assaladou has a 1Ha nature campsite with 25 spacious pitches of about 300m² each. These are surrounded by 6ha meadows and forests within the domain, and an enormous nature reserve beyond.  Come stay with us and experience such a soothing immersion in nature!
You breathe in the pure mountain air and are surrounded by such beautiful landscapes.
At the same time you still have the comfort of outdoor kitchens, clean sanitary facilities, our nice swimming pool etc… Bring in your favorite camping dwelling, or opt for taking a rental caravan with us.
A clean sanitary block is available, with more showers in the fields.
You can also prepare meals in one of our outdoor kitchens.
Those arriving by train or plane can pre-order a shelf in one of our refrigerators (on request, if available). Kitchen utensils can be rented from us at a small additional cost.
Fresh bread can be ordered daily and picked up at the reception.
Learn more about the amenities offered at L'Assaladou.
The renewed swimming pool welcomes you for a refreshing swim. The little ones can go to the toddler pool. Or you can relax in the barrel-shaped sauna created in our own wood workshop. Table tennis, petanque and trampolining can also be done on site. Or settle down in a cozy corner of the garden and enjoy a good book.
A bathing lake with beach, (child-friendly) hiking trails, sights and restaurants are all found within 8 km.
You can choose between two main zones: one next to the cosy square with its campfire near the toilets and the showers in main building, and the other one located further away from the building, 100m towards a even quieter and more "wild" area.
To see what's still available, choose: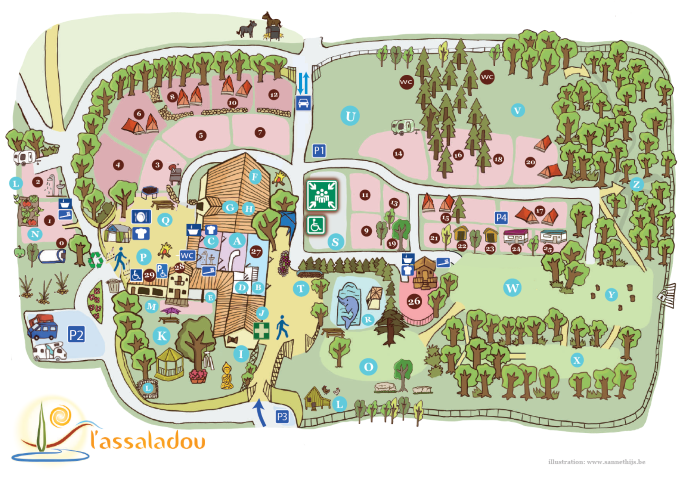 At cosy square near showers & toilets
Quieter zone with compost toilet