Amazing Surroundings to discover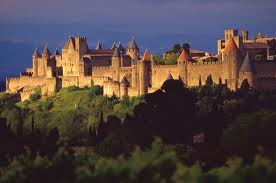 The Assaladou is a small holiday retreat, located at the foot of the Pyrenees in the middle of nature. The Heritage of the Cathar Country, the charm of the South of France form the background of this attractive region where the mix of history and nature will enchant you. Here are some impressions of the beautiful surroundings awaiting you!
Holidays and Inspiration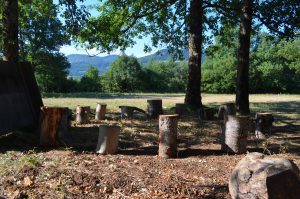 Meeting Place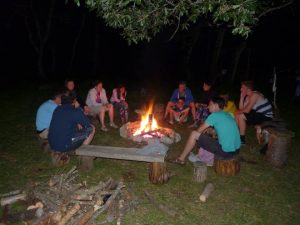 In addition, L'Assaladou is a meeting place with lots of possibilities for real and refreshing social contacts, which acquire an unprecedented depth thanks to the common search for an inspirational life. Existo organises holiday workshops on inspirational living, enjoyment of nature, non-violent communication, deepening of relationships within the family and between couples. A central principle in these workshops is the fact that learning and experiencing are collective aspirations.
Retreat or Therapeutic Holiday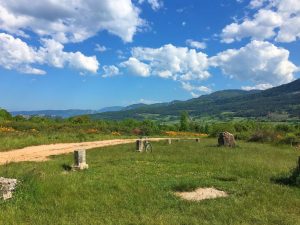 L'Assaladou is also an ideal place for retreats and therapeutic holidays, alone or with your partner.
We challenge you to connect with the deeper meaning of life, where the search for true happiness is no longer a faraway ideal, but a tangible and achievable target. We provide counseling sessions to support you in this process if you want them.
We recommend you to take a longer stay to complete a personal journey.
Stays for an entire group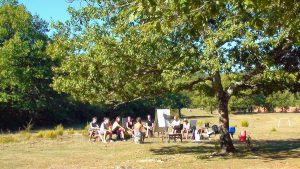 L'Assaladou with its luscious greenery and warm atmosphere lends itself very well to group activities.  The indoor 'Bungaloft' multi-purpose hall, the Grand Gîte, several chalets and apartments, the campsite and a lot of accessible green spaces facilitate this. The whole estate has 23 beds and can even accommodate more people thanks to its small campsite. We offer you an ideal place for sharing and exchanging, which can be even booked exclusively out of the summer season for groups.
Sustainable Tourism in a Herbal Paradise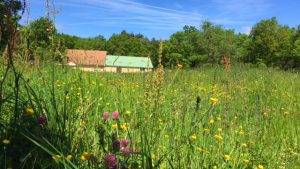 An important educational aspect of the holiday estate L'Assaladou is the fact that we want to give our visitors a taste of a 'sustainable lifestyle', closer to and with a deeper respect for nature. Read more about sustainable life on the estate here.
One of the prime examples of this is the picking and processing of wild edible and medicinal plants in and around the estate. We love to share our herbal knowledge with our visitors!
Last but not least, L'Assaladou is an outstanding destination for a leisurely holiday, where the true meaning of relaxing and de-stressing becomes clear. Reading a good book in our library, swimming in the pool with a view of the Pyrenean foothills, sunbathing, walking through the surrounding woods – the only stress is what to choose! In short, L'Assaladou is in every way the place for a sustainable holiday. Ecologically sustainable, but also mentally sustainable, because you will always carry these holiday experiences with you. Here, we aim to pass on and cultivate important values, that give meaning to life: connection with nature, with each other, with yourself and with your sources of inspiration.
Follow us on social media