Paid facilities on site
| | |
| --- | --- |
| Rental of a set of sheets 1-2 persons | 8 € |
| Rental of a set of towels 1-2 persons | 6 € |
| Rental of a self-catering box (for 4 people max.) | 1 € / day |
| Parking near your cottage or pitch (unguarded) | 2€ /day |
| Use of a washing machine 10 kg (low season) | 8 € |
| Rent of an extra guest bed or mattress on the floor | 6 € /day |
| Hire of a crib (if available, book well in advance) | 2 € /day |
| Rental of a child-friendly high chair (2 available) | 2 € /day |
| Firewood (self-loaded wheelbarrow) | 10 € |
| Others | Pricelist |
Free facilities
Unguarded parking for vehicles outside the gate of the domain (at your own risk)
Small indoor kitchen (priority to the guests of the rooms in the gîtes)
Outdoor cooking facilities (Box with kitchenware for rent, see above)
Access to a shelf in the refrigerator (if available, mainly for those who arrive by train or by plane)
2 shower blocks and toilets + dry toilets on the terrain
Access to most fields and forests within the domain (domain is fenced, but 3 gates are open)
Use of small sports equipment (table tennis, badminton, …)
Borrowing of creative materials and board games
Wifi at the reception for most of the day
+ borrowing of USB-Ethernet connectors for laptops and tablets (RJ45)
Borrowing of bikes (for smaller children, if available)
Wellness
Barrel 'nature' sauna, ecologically created in our own wood workshop with local wood!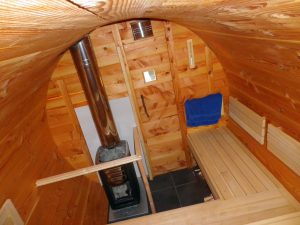 Individual acces to the sauna
(naturist, bathrobe/towel allowed)
8 €
Sauna acces for child 6-12 years old*
4 €
Sauna acces for child < 6 ans*
free
Private rental of the entire sauna (from 2h onwards, 2-6 persons)
40 €/started 2 hours
*with and under supervision of an adult at all times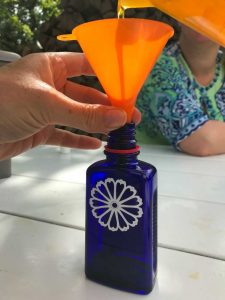 Out of high summer you can have a private herbal session at Katrin. A unique experience where you pick the herbs yourself and learn to transform them into a preparation of your choice: … an oil, ointment, cream, plant medicine, perfume …
By doing this together you learn a new skill you'll never forget. You 'll get a lot of useful plant knowledge and leave with your homemade jar or bottle of 'pure well-being'. A unique experience on your vacation.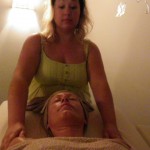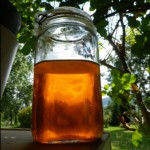 We have a whole menu of mental wellness coaching, given by Katrin or Kim.
You can book these on the spot or in advance, if you want to be sure of having a place
Ask for more info about herbal sessions and coaching on Assaladou.
Reception/internet
In the room 'reception' you 'll get daytime WiFi, tourist information etc. The small library features a few inspirational books, all of which fit well with the motto "Healthy Mind, Healthy Body". You will also find some literature and a lot of board games.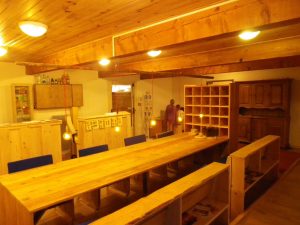 Bungaloft Hall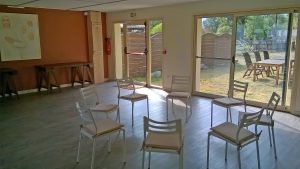 For workshops and other group activities, our room is available. It can be rented by the day or for several days. In the rental is also included the use of the enclosed fenced garden. Learn more
Internet
L'Assaladou is 'internet-poor'. We want to encourage our guests to explore new horizons during their holidays, as well as relieve themselves of computer stress and electrosmog. We are also at the end of the line, so the connection is not always optimal. We do promise other / better connections during your stay;)!
On L'Assaladou you will not find TV or WiFi in the rental accommodations – with the exception of the Petit Gîte that has ethernet connections in the bedrooms (connectors to USB available), and the Bungaloft.
Wifi is available during the day in and at the reception.
The whole valley has a very good 4G reception, you can use your bundle here as at home.
Large pool with mountain views and playgrounds
On the domain you can swim and sunbathe at the foot of the Pyrenees.
A refreshing swim in the pool is possible from 9am to 9pm. (An hour before and after can swim very quietly).
Some guests like to swim without swimsuit, to relax completely and feel even more connected to nature. Nude sunbathing is allowed at the 'far end' of the pool (right at the back) and inside the closed fence near the sauna behind the pool. The atmosphere in and around the pool is 100% family friendly.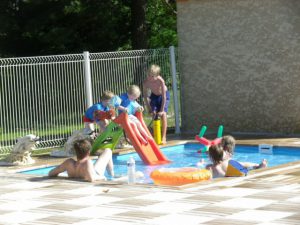 The children have their own plunge pool. Children have plenty of room to play and romp in the vast green or on the toys.
The meadows around the buildings cover 6 hectares. The domain is fenced, but the gates remain open.
Meals & Self Catering
Self-catering in your accommodation or in one of the guest kitchens
Assaladou is conceived in such a way that every guest has the facilities to cook his own meal. All cottages, chalets / lodges and caravans are self-catering.
Room guests have access to an indoor kitchen. Camping guests have an outdoor kitchen at disposal.
Sets with own cooking utensils can be rented for a fee.
Some guests like to cook a meal for a whole group. In the summer, this can be done in consultation. Our field kitchen can be rented, which is specially equipped for cooking for larger parties.
Restaurants
Do you want to eat out in a restaurant nearby? Within a radius of 8 km (Quillan or Puivert) you have a wide range of possibilities, including inexpensive options! Information at the reception.
Daily bread and regular raw dairy delivery at the reception
For fresh bread, croissants or chocolate breads, we take your order the day before. Every morning (except on wednesdays) our baker will bring you these freshly baken delights! 2x per week you can also enjoy the benefits of tasting delicious fresh milk from grass-fed cows from the farmer.